SimbeyChess
5/20/2004
By Simbey

For anyone out there who's ever drawn their own board games and brought in pieces from Chess or Checkers, here's something for you!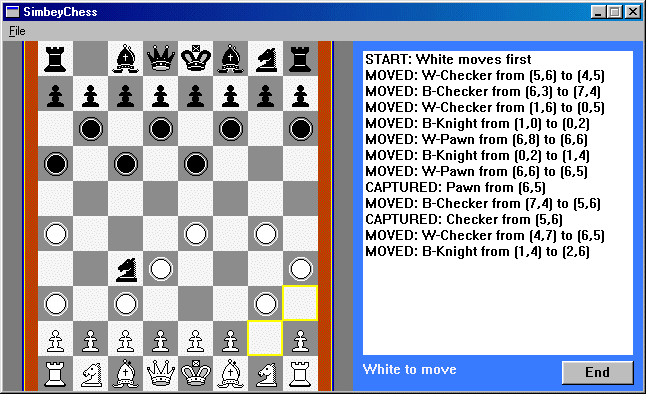 SimbeyChess is a small game that allows users to build their own boards of varying dimensions in text files and select the placement of pieces.  When finished, the game will come stock with Chess and Checkers pieces, but those pieces will be in a separate module.  Users will be able to build their own pieces to be plugged into their own map files.

So far, the game works played by two people sharing a keyboard or two people manually connecting via DirectPlay8.  DirectPlay Lobby support is not yet completed (you'll be able to launch a game from MSN Messenger).



SimbeyMail


I'd also like to let everyone know that once SimbeyChess is done, I'm going to start writing a web-based E-Mail program for checking one's SimbeyMail account.  I'll try to integrate it as closely as possible with the website login system.

Oh, so much I want to do...  Where is my funding?