A bunch of FIRSTS!
10/29/2008 6:54:13 PM
By Danielle Gould



Wow... it's been so long, I had to refigure this thing out... oh well, hopefully I'll be a little more efficient from now on.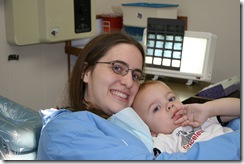 Nathaniel had his first dentist appt on the 16th. He has quite an overbite, so he'll have to have early intervention orthodontics, but not right now. I was amazed at how well he sat on my for this adventure, although once the Dr. started trying to look in his mouth, he wasn't so calm. He's been teething all four k-9s these last few weeks, and it has proven to be his most difficult set of teeth to break through. We finally have some progress though (now the biting needs to stop)!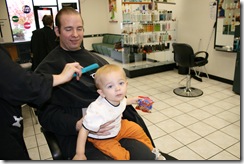 His first hair cut followed his dentist appointment, making for a very busy day! She did a great job cutting his hair, you can't even tell he had a hair cut. David and I both got haircuts (and had dentist appointments) as well, so it was a family adventure!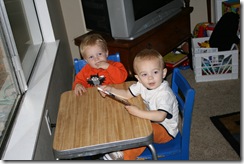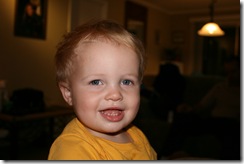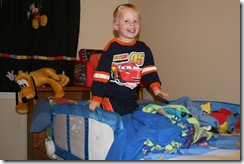 We then went to my Mom's house and shared my sister's birthday dinner with her. It was a long day!
On the home front: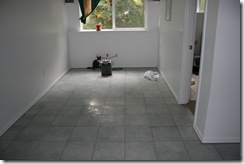 Our bedroom floor was finally completed and we're all moved in now. The project took about 3 weeks longer than expected, making for an interesting sleeping arrangement for us, but we're SO glad to be back in our room. If you come to visit us, you have to see it, the picture just doesn't do it justice.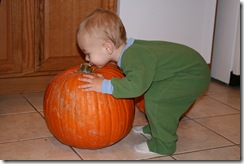 We bought pumpkins!!! Among crashing them together and treating them like giant balls, I happen to catch Nathaniel kissing it! He wasn't actually kissing it (his kisses are proving to turn into deadly bites these days) but I???m not sure what he was doing, and it looks like he was kissing it!
We decided to save the messy pumpkin carving for next year, and go with a cheap alternative. Being that Nathaniel is CRAZY about "puppies," I had to buy him the puppy pumpkin kit! They turned out pretty cute! (And a minor hooray moment for me and David! If we look slightly different in these pictures it's because together we have lost 69 pounds in the last 8 months!!!!)
This was a preschool play date I took Nathaniel and Samantha to last week. Though they were a bit young, Samantha particularly enjoyed observing, Nathaniel was more into ruling someone else's toys, running around like a chicken with his head cut off, and thrashing uncontrollably in tantrums... but to each his own! I realized later that this picture, though it only catches the back of Ella's head, has Nathaniel???s two favorite ladies in it. In fact, other than Annie, the dog next door, Nathaniel only speaks about "Nana" (translation *Samantha) and "Elwa" (or Ella) all the time! I am amazed at how much he thinks about these two girls! It actually gets quite annoying on the days we haven't planned to see either one, because all he cares about is the next time he's due to see them!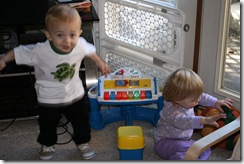 Action Shot! This is an important photo because although he's not off the ground, Nathaniel has finally begun jumping this past month (both feet off the ground). Granted, he sounds like an elephant jumping when he's upstairs, but nonetheless it's a huge developmental mark (hopefully some grace will come a little later).