Fun Month
11/13/2008 9:19:44 PM
By Danielle Gould



Yes, that's right… it's been another month. Sorry guys, turns out I'm not that great at blogging after all, no surprise there!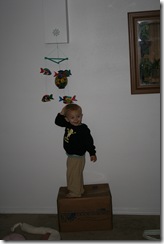 That darn fish mobile is still a favorite… and getting to touch the fish is a special treat!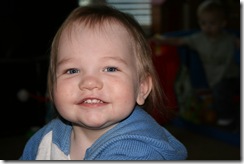 Check out Jude! Cute boy, finally growing into those big cheeks! Jude has been Nathaniel's bud since they were born.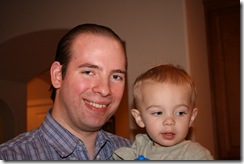 A good one of Daddy holding Nathaniel at Nicole and Shaun's house.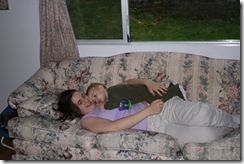 A rare moment of cuddle-buggin' going on.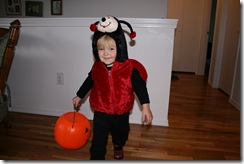 Here's Samantha, ready to trick-or-treat at Microsoft.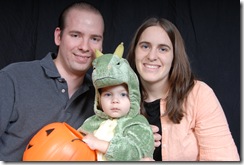 This was taken at Microsoft when we took Nathaniel up there to Trick-or-Treat.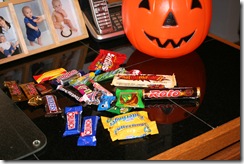 And, here's his Microsoft loot! Collected entirely by himself, he visited 24 offices and kept each piece in his bucket… we were so proud! I think Daddy did all the eating for him though. When he's older he's going to score way too much candy there!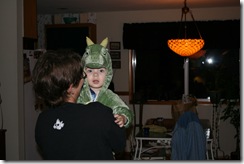 Halloween night, we Trick-or-Treated over to Tina's house next door.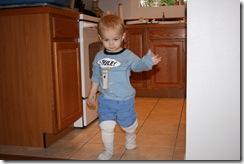 Silly boy! He insisted that I put my socks on him, and once I did, he was so happy, he paraded around the house in them for quite some time!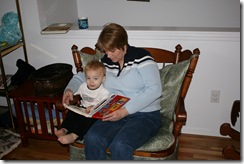 Nathaniel always loves visits from his Grandparents! On this special occasion, Grandma was reading to him… he loves that too!
Thanks to mom for snapping our family Christmas photo this year… though it will remain a surprise, these two were close seconds.
On November 4th we headed down to Alderbrook Resort on Hood Canal for the night so that David could speak at my old high schools for their annual career expo. We got a really nice two bedroom cottage on the waterfront, just next to Bill Gate's vacation home. The following pictures were snapped out there.
On November 10th, we met up with my sister and had all the boy's photographed together. We then went back to our house for some playtime. Here are some of the cute shots.
And a special thanks again to Uncle Steve for building this fence.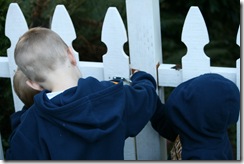 All three boys so desperately wanted to figure out the latch, but thankfully they couldn't break the lock I put on it!