November Fun!
11/30/2008 7:42:04 PM
By Danielle Gould



We have spent most of the month sick with various bugs, it seems. Hopefully December will be filled with better health!

On one of the really nice days we got outside and did some major yard work. Nathaniel was super helpful!

As you can see, he was determined to paint something! Luckily, there was no paint on the brush! But, he thought he was being helpful.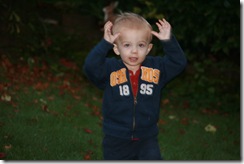 Though this one came out a little blurry, I couldn't help but think it's super cute! His eyes are red, and he's giving himself horns… can we say demon baby?
Come night time, and Nathaniel can get pretty silly. On this particular night, he decided he wanted to sport multiple pairs of PJs, so I tried to get them all on him, resulting in the super-hero cape look… and thank goodness he's finally taken an interest in that car! We got it for him last year for Christmas, and wouldn't you know, he's just now figured out how to ride it!
After having a very unsuccessful trip to see Santa at the mall, I decided we'd have little "Santa lessons." So we colored Santa, and we talked about him, and then we played dress up with a costume I have. I couldn't get Nathaniel to put the jacket on… But Samantha was willing. He did take a liking to the hat, which is quite an improvement from a month ago, around Halloween, when I tried to get him to wear the hat, and he'd have nothing to do with it.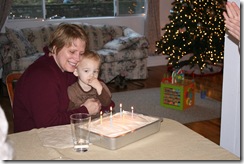 Finally, Grandma came and shared her birthday with us. We had a nice dinner and some yummy carrot cake.