Some end of the month fun!
3/4/2009 7:05:08 PM
By Danielle Gould



Hi Everyone,

Out of laziness, I hardly took any pictures this month. It was actually more of an end of the month rush on pictures when I realized I had nothing to put up here!

Anyway, here they are:

We had a surprise snow on the morning of Feb. 26th, so I took the kids out for some fun. I'm guessing it will be the last fun in the snow of the season.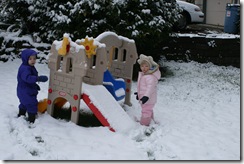 Nathaniel insisted on clearing off his slide…
Samantha played on the swing a bit while Nathaniel ran around.
I realized how out of practice I am, when I tried to build a snowman… apparently I forgot to pack the snow enough, so the snowman fell over during nap time... the kids weren't sure what to think of it, or what to do with it.
The next day, I took some random pictures depicting a day in my life…
And then we met a friend at Charlie's Safari.
What a nice way to end the month!