March, a busy month.
4/11/2009 8:37:56 PM
By Danielle Gould



As the rain has returned, itís time to update the blog. I really wish I could be better about this, it just seems like such a process to get the camera downstairs, get the pictures off of it, and make sure it gets back upstairs so I donít miss something wonderful, and then remember to blog about the pictures once Nathanielís in bed!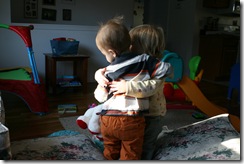 Though this isnít the greatest picture, itís sometimes hard to capture their hugs on camera, despite how frequently they happen. Nathaniel has started to ask us for hugs occasionally, he says ď Be HuhĒ for ďBig Hug?Ē
There are tons of pictures from Nathanielís birthday party, but here are a choice few.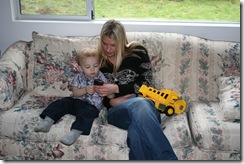 As soon as Nicole broke out her phone, Nathaniel was by her side, ready to learn. He loves cell-phones, but I think most kids do!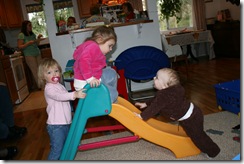 The slide in the living room was a favorite for the kids. Taking turns was a little tough, but they did pretty well.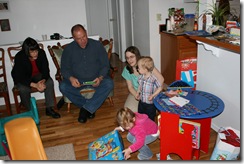 Nathaniel opening his gifts, Ella helping so nicely!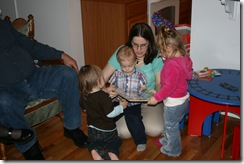 Everyone in AWW over Nathanielís new Melissa and Doug Touch-N-Feel puzzle.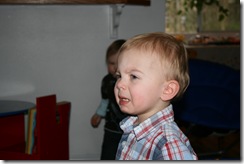 The classic ďitís my party and Iíll cry if I want toĒ moment.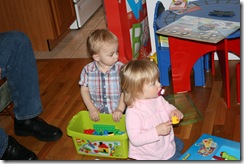 More Duplos!!! Always a hit in this house!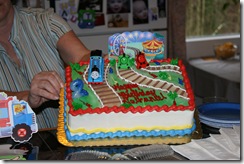 The infamous cake. We took this picture with the intent of trying to duplicate it ourselves next year.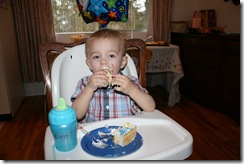 YUM!!! That was some GOOD cake!
The last weekend in March, my mom and I took Nathaniel to Westport for our first visit to the beach. It was so stormy on the only day I had any energy (thanks to Nathanielís lack-of-sleeping ability in a strange place). We only took a brief walk on the beach to get some photos as proof that he finally made there! Of course, he was most interested in running straight for the water, which got quite exhausting, quite quickly!
So much for all the sand-toys he has!
Last weekend we went to an Easter Egg hunt hosted by the momís group Iím part of. It was a blast! Nathaniel got the hang of it pretty quickly.
Until next timeÖ