Little Sleep Required
10/1/2009 2:21:40 AM
By Danielle Gould



…as I finally find time to update the blog at 2AM!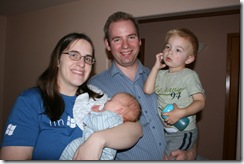 First Gould Family photo
After a bath, against white… is it red? We're really not sure yet… sometimes his hair looks REALLY red, and sometimes it looks flat, light-brown. It will be interesting to see what it turns out be!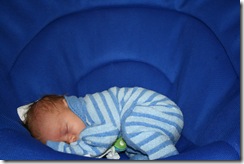 Sleepy time in the papasan chair.
The second-cousins came to visit, and Nathaniel had a blast! He particularly enjoyed tackling Clara, who would exclaim "I am not a toy!" in return as they both giggled uncontrollably.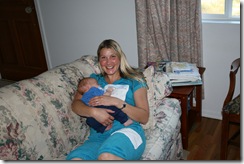 Shaun, Nicole, and Jude came for a visit. We were so grateful for the dinner they brought us, and that Nicole was more than willing to hold baby Warren so we could eat together!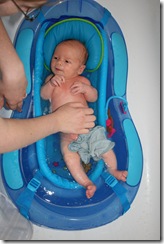 Baby's first bath picture, though not officially his first. His first bath was luke-warm and super-disliked. Once I figured out Warren likes to be warm, I started making his baths really warm, and he started LOVING them! I'm so grateful that problem is solved because he's a stinky boy with all the puking he does!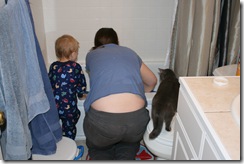 Though this is an awful butt-shot of me, I couldn't resist posting it because this is life! I have double help with everything! Everyone is curious around here!
Nathaniel's new fireman boots! His feet have really been growing super fast lately!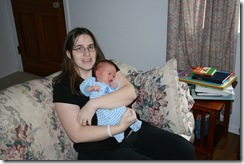 This is a "mommy-holding-squirmy-baby-shot"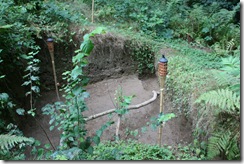 The hole, in all its glory!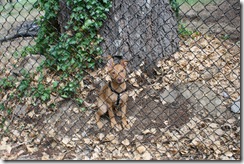 The neighbor's new puppy. So glad he's a good dog!
Ann and Gavin came to visit. Nathaniel had a blast playing with Gavin. I swear the two could pass as brothers with their blue eyes, blonde hair, and pale skin, and giant smiles! Ever since these two were little babies, they were both so happy all the time. Toddlerhood has its challenges, but they are great friends! We were so thankful that Ann brought us dinner! She much enjoyed a little newborn cuddle too, giving me a much-needed break! Thanks Ann!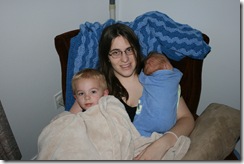 Classic "everyone-needs-mom" shot!
Despite the new baby, we were thrilled to get a chance to watch another bunny for a weekend. We much enjoyed "Lucky's" company. He is an awesome rabbit. If I ever get another one, I hope it's just like Lucky… only a little cuter! (No offense, Lucky… your attitude totally makes up for it!) Talk about a happy-go-lucky-bunny!
We took a trip to Shelton for an extended family gathering. Nathaniel had a blast playing with his cousins and pig-piling on top of his grandpa.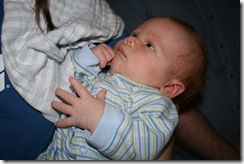 "deep-in-thought"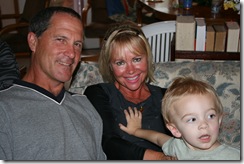 Probably not so appropriate to post, but I couldn't help but find the humor in the completely innocent placement of my son's hand, and the blissful smile on Julie's face. This is my dad and his new girlfriend, and I think, in reality, Nathaniel trying to push himself out of the picture.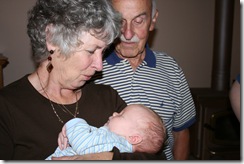 The great-grandparents meet Warren for the first time.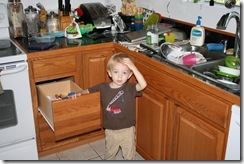 "uh, am I in trouble?" You gotta love the clueless expression Nathaniel has on his face, and the messy countertops that seem to come with a newborn!
No, this didn't turn out bad! But, again, the mischievous smile on Nathaniel's face, as it appears as he's about to jump on his brother… though he didn't!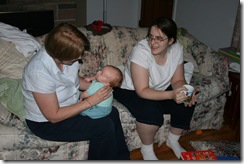 Grandma's first picture with Baby Warren!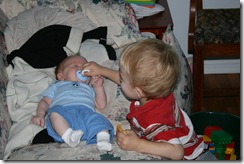 Big brother helping…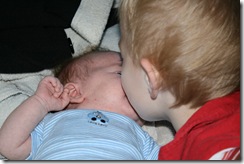 Sweet kisses.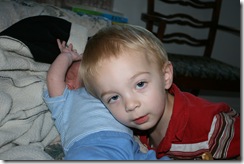 Priceless hugs.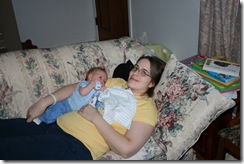 Priceless newborn cuddles…
Melissa stopped by for another visit.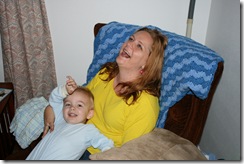 Carrie provided some much needed entertainment on a day that just wasn't going so well. So happy to see these smiles!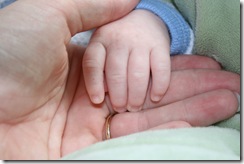 Tiny fingers!
First smile captured by our camera!
LOVE the mobiles!
Nathaniel got some new shoes! And, though he loves to put them on, he sometimes gets it backwards!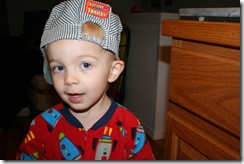 Nathaniel's new jammies and his new favorite hat, which he sometimes calls his "cap" thanks to Curious George!