Whoa Nelly!
12/10/2009 6:32:53 PM
By Danielle Gould



Alright, I know, I know… it's been a SUPER long time since I updated the blog. My great excuse: I wrote my first novel in 1 month!!! Yes, that's write, I wrote a 50,000 word novel during the month of November for the NaNoWriMo competition… and during that month, every spare moment was spent typing madly on the netbook, flaring my carpal tunnel back up and putting everything else aside, including the blog!

BUT, I'm back with loads of pictures! Aren't you glad? Warren has grown like crazy!! Literally, he's not quite 4 months old, and is totally filling out his 6-9 month clothes. Seasonally, he caught up to Nathaniel's old wardrobe. He's wearing the same coat now that Nathaniel wore December of his first year- he was born in AUGUST people (Nathaniel was March, for those of you who can't remember)!

Anyway, we're still off-and-on sleep deprived in this house- but here are the pics we've snapped!

Little man loving his mobile, when 0-3 month clothes still fit… and hats fit… and booties fit… oh man, it's a little depressing how quickly he's outgrown it all!

Daddy and Nathaniel after they both got a haircut! Seems so long ago… but since then, we tried to take Nathaniel to get another haircut and it was much less exciting, in fact, it was brutal (or so I've heard… David had to take him back without me and considering the how bad it turned out, I believe that it was not easy!)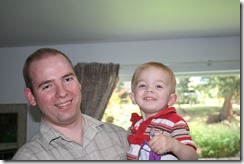 Just like Nathaniel, Warren loved balloon play, though now he grabs at things, so again, this seems like forever ago already.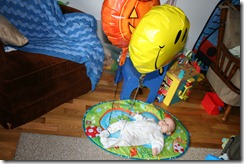 We took a trip to the zoo with Amanda, and though it was over two months ago, Nathaniel still talks about it all the time. He can't wait to go back! It was hard to get any pictures of him still, cause he doesn't stay still!
He seemed particularly interested in the giraffe exhibit… I think the sheer size of them shocked and amazed him. Here's a cute picture of Amanda helping Nathaniel look at the giraffes.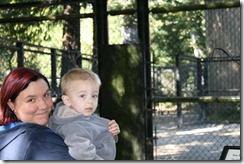 Daddy and his boys, chillin' on the couch!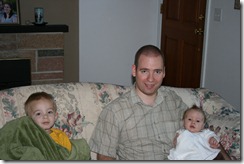 The story: our freezer thawed, and I had a lot of stuff that had to be cooked. Thankfully, a neighbor had recently had a baby, so I showered her with food, and a few other families as well. Riddle me this: how can the same recipe, prepared the same way, turn out so completely different!? Must have been the pan…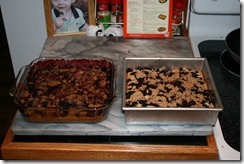 The end of Warren's balloons…. Veech had the nerve to go chew the ribbons off while he was playing with them. So, despite her nearly getting repeated blows to the chin by his feet, she destroyed his toy. I felt so bad for him when I looked down to find two stubble strings attached to his still kicking legs. Dang cat!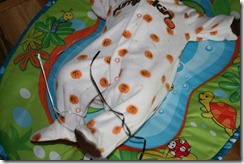 We travelled down to Tenino to visit with David's aunt and grandma:
This was when I realized that Warren was outgrowing his clothes at an alarming rate: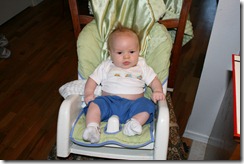 I try really hard to not let him slow me down… though he's too heavy to do this now, I was able to frost some cupcakes while holding him so he would fall asleep when he was a bit younger.
Here's Veechers, deliberately disobeying us by camping out on the kitchen table… I shake my fist at you, silly kitty!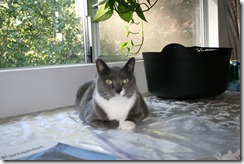 One of Nathaniel's soon-to-be (I hope) favorite past-times: He likes to pretend that the pillow is a garage door, and he asks people to push the button, and he raises it above his head, and then push the button again to lower it… you get the idea. He's a pretty silly kid!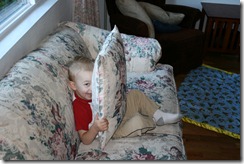 My sweet pumpkin.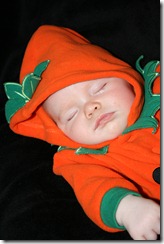 Goofy camera fun… sometimes, when I've just had enough of the chaos, I'll break out the camera and let Nathaniel see the pictures I take. He likes to run in front (or in this case, lay next to his brother for the shot) and then jump up to see how it came out. I got lucky with these ones:
I can't believe how grown-up Nathaniel looks in this one: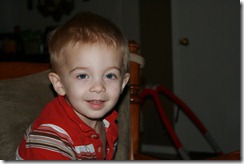 Me and my baby: don't mind the endless bruises on my arm, courtesy of my other job- referee.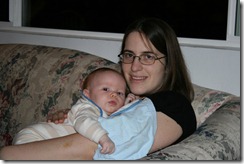 And this would be the next size of clothes that Warren outgrew in the last couple of months… such a cute baby/daddy shot!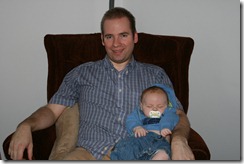 Oh, and a testament to my kids not slowing me down (although mom frosted them for me) I baked 12 cake for a cakewalk at Halloween, here are some of them :
12 cakes made… and then to transport them! I knew I bought a Pilot for SOMETHING!!!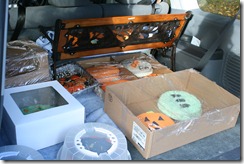 At the Halloween Carnival: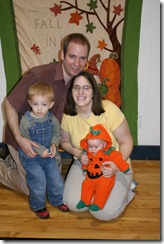 Two baby pumpkins: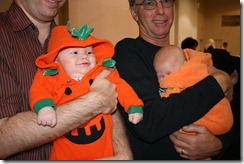 Nathaniel went as a farmer because he refused to put his Curious George costume on:
Sweet Dorothy-Ella:
Frankenstein baby Warren:
Nathaniel, so happy to be next to a giant FAN- the highlight of the carnival was the unintended decor… and the door. I know, my kid is weird!
On Halloween night, Nathaniel got to go trick-or-treating for the first time. He went with Daddy and a bunch of neighborhood friends. Though he was prompted to say "trick-or-treat" some of his quotes were: "What's your dog's name?" "Do you have a garage door button?" and "Can I come in?"
Nathaniel: holding Warren for the first time. I can't believe how close in trunk-size they are! Warren has now passed Nathaniel's 1/2 way mark in weight.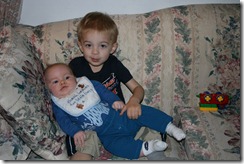 Daddy and his boys:
And, I have to point out that my shirt says "Mail Chauvinist"… it's David's, given to him at work, since he works on Mail… but it's comfy and he doesn't wear it, so I do :)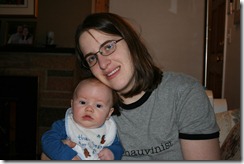 CRAFTS! CRAFTS! CRAFTS! YAY! I love doing crafts with Nathaniel, though neither one of us really does well. He doesn't stay calm long enough to sit and do anything, and I struggle with the inevitable mess. But, it's fun!
This was Nathaniel's very first time with the paints… and I must admit, he did a very good job staying clean!
I had a bunch of moms with new babies over, and we made footprint candles. It was super fun: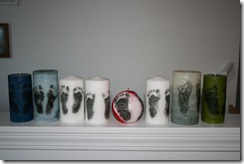 On a cold rainy night, we went out to Renton's Reindeer Games celebration. It was kind of lame, but we experienced it, which is the important thing! Nathaniel really enjoyed watching the train, but the line was unspeakably long, so we just watched for a little bit.
THANKSGIVING! Jason came back from Korea on Thanksgiving day, and I tried to catch the homecoming:
Ryan refused to move into the frame for a family picture, so I promised to photoshop him in.. lucky for him, I'm not the photoshop artist in the family…
Dinner was fun!
The boys took turns holding baby Warren:
We made candles after dinner. It was super fun to do an adult craft- it's been so long!
Nathaniel colored: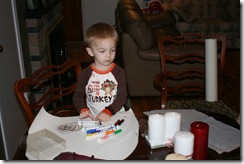 Grandma stayed the night and helped us decorate for Christmas the next day.
And, Warren got dressed up in a 3-6 month outfit for the last time. :( It really didn't fit, but I had bought it a long time ago, and I couldn't resist trying to get his picture in it.
The hat was ridiculously small, and I could only set it on his head… so I took some without it: (check out that bowl full of jelly!)
And finally, just a few days ago, Melissa came for another visit. She painted with Nathaniel, and then showed him how to wear a flower behind his ear. :)
She also taught him that fingers can be removed (through the clever thumb trick)… he's constantly running around asking if he can take my thumb off, now. He's such a sponge!
Until next time- which hopefully won't be too long from now!