The Calm after the Storm
12/27/2009 11:26:29 PM
By Danielle Gould



Christmas was crazy this year! We spent much of it on the road, going from family party to family party. In all, it was a highly stressful holiday for the parents of two little ones; one who just wanted to open every present in sight, the other screaming the entire route in the car because he doesn't understand that his car seat is not going to swallow him whole… we were very happy to be home Christmas night. And, the day after Christmas was the best day of four, when Nathaniel got to spend the entire day with his new automatic train set from his Grandma and Grandpa Fufu. Warren much preferred watching the train to playing with any of his new toys too…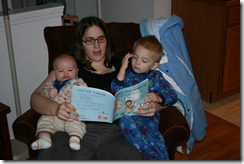 Before Christmas, Nathaniel and Warren listening to Nathaniel's favorite story. He's now reading the repetitive parts throughout the book to me, which is the first step in learning to read, and has me really excited!
David's cousin Anne, stopped for a short visit while she was in Seattle for a few days. We always love surprise visits from her!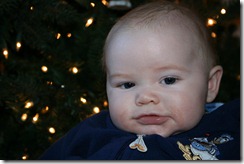 Warren, in front of our Christmas tree.
Warren, enjoying his first meal ever! He is the first baby I've known to go crazy-happy over eating plain rice cereal… he was just SO happy to finally be eating at the table with the rest of us! Since these pictures were taken, we've continued to feed Warren big boy baby food every night, and he loves it. It takes him just a couple of minutes to wolf down a jar, and I swear, if he could talk, he'd say "Ok, I'm ready for a steak now!" He almost always gets frustrated when the meal is over, despite the fact that I offer him milk afterwards to make sure he's full… he's always full!
I barley got the camera in time to snap these three shots. Owen, a friend's baby, crawled over to Warren while Warren was sitting in the aquarium bouncer and planted a kiss right on his mouth…. priceless!
After I gave Nathaniel the news that we were going to Grandma's for a couple of days, I suggested he find some pants to take and he unloaded his entire dresser full of clothes onto the living room floor exclaiming that he needed to take it all to Grandma's! I think he was ready to move in with her.
Happy boys!
12-23: Nathaniel's first Christmas of the year with our neighbor, Tina.
Tina, opening a well-thought-out gag-gift after a year-long preparation and lots of help from Nathaniel!
The view from my uncle's house in Pt. Orchard, which is where we went Christmas Eve day.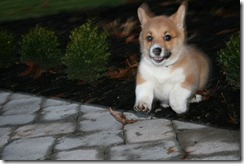 Barra- action shot, cause she's all action. My sister's new puppy.
Nathaniel's second Christmas, for the year… With his cousins, at my Uncle's house.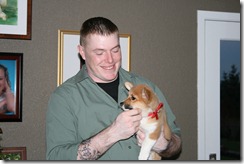 Man's best friend: Jason and Barra.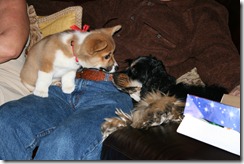 Barra and Jazzy, just before Jazzy snapped at Barra, on the couch where no animals are permitted… oh the dog drama.
Fun family photos.
Nathaniel's third Christmas: at Grandma's house on Christmas morning. The first present was the George outfit he is wearing.
Warren's first Christmas, at Grandma's house, Christmas morning… he slept through the opening of the gifts of the previous two that Nathaniel enjoyed. Warren actually did a fantastic job opening his own gifts this year, and showed genuine excitement for the toys he unwrapped, but also for the paper…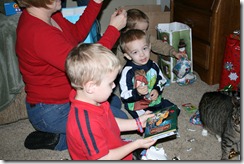 The cousin's arrived for some more unwrapping fun!
A couple good shots of Ty.
A couple good shots of Ryan.
Nathaniel, seemingly unthrilled, but misrepresented.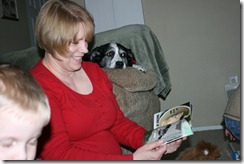 Mom got a book she really liked, and Faith felt completely left out… forgotten this Christmas for the first time… Every other year, gift opening would end with her, being so excited that she was presented with the final gift, but no one remembered this year…
Nathaniel's fourth Christmas: We went to David's Dad's house for the Gould family gathering on Christmas Day. Nathaniel knew exactly what this was when he opened it… we ended up having to hide it until it was time to leave, so that he would quit obsessing about opening it- it was this present that made the next day (the day after Christmas) Nathaniel's favorite day this season because he got to spend the whole day playing with this one toy.
Everyone opening their highly creative gifts from Aunt Marsha.
Cute sequence.
A little happier elf opening his final gifts from the Gould gathering.
Some flattering and unflattering shots of the Gould family on Christmas.
Nathaniel's final day of Christmas. He opened his gifts from us this morning, but we spared him the camera for that part. This was before and after the final great opening- the best part of Christmas this year, as told by both the Gould darlings… the remote control train set that Grandma and Grandpa Fufu got for Nathaniel. We remain amazed that after two days of constant play, the batteries are still holding in there, although the train is getting quite wobbly as it tries to climb the hill.
Today, I discovered that the noise it makes is much more bearable with a piece of tape over the speaker… perhaps tomorrow the batteries will finally run out and we'll be forced to contemplate their replacement.
And I'll close this entry with a copy of our family Christmas letter, in case you're not on my mailing list, or I forgot to add postage to your card and it got returned…
Dear Friends and Family,
Our biggest news this year is the addition of our newest family member, Warren. Some people may introduce their dogs as "the newest addition," which doesn't seem too far off considering Warren reminds me of several different types of animals.
When he first came home, I kept calling him a "horse." He whinnied and neighed like he'd come in straight from the fields. He's a very mellow little boy, happy most of the time. He'll even let me work in the kitchen so long as he can see me. In fact, he tends to stare me down, much like a cat! As he's grown, his noises have become much more human, but his table manners remind me more of a dog. He begs for food he can't yet consume and snorts and slops at what he does eat. Warren is an awesome eater, for which we are grateful, though he generally lets everyone in the room know he is eating, which brings me to the final animal: a pig. You may be relieved to know I'm thinking of a sweet, little, plump piggy, not the huge ugly ones auctioned off at the fair. I call him one in the most loving way. Warren LOVES to eat! Just like his daddy, he never misses a meal, and sometimes has some extras.
Nathaniel has taken well to being a big brother. He's always around to try to entertain Warren, living up to his family-given title of the entertainer. Sometimes, I want to get after him for scaring the baby, but when I look at Warren, he's just beaming at his brother's awkward noises and blunt movements, and so I hold my tongue. Nathaniel's energy level continues to climb; we hope it is leveling out so he doesn't take down our whole house with his constant running, jumping, dancing and giggling.
David's been enjoying LAN parties this year, for the first time. For those of you less tech savvy (or super tech savvy for that matter), LAN parties are where a bunch of people drag their huge computers (or smaller ones) over to our basement, network together to play games, and get obliterated by David. That's about all I know, other than I hear lots of laughter and see a bunch of happy people leave at the end of a long gathering.
As for me, I like to reminisce about the days when I had time! I say that, but then I think about what I've accomplished this year. We grew more food this year than ever before, plus I grew a baby! I managed to make 12 cakes for a cakewalk. I joined a wonderful group of leaders to help organize my mommy group of nearly 100 members, and I wrote my first novel. Yes, that's right; I actually wrote a 50,000 word novel! It's still sinking in. I have a lot of editing to do, but I'm hoping to have a manuscript in my hands by July!
And so the Gould family prepares to enter another year. I can't help but wonder what fun things I'll be reporting next year.
Until next time,
Danielle, David, Nathaniel and Warren
Kitty here, that's right, after all the hard work I did on the letter last year, I've been completely omitted! The nerve! It seems my owners have little respect for the way I treat the new hoodlum who sucks up all the attention meant for me. If you or someone you know without small children wants me; a nice, entertaining, indoor kitty, please pass word to my owners. They would love to pass me off to someone who can give me the attention I soooo crave! -Veechers, the lowest on the totem pole.