Wahoo! A new year!
1/25/2010 7:35:29 PM
By Danielle Gould



Yay for updating the blog! It seems like a task I think about often, but rarely when the kids are quiet and I actually have a few minutes to myself!

Warren is growing leaps and bounds by the day! At 5 months, he's weighing in at about 20 lbs and wearing size 12 month clothes. He's a big boy, and he loves his food (as you'll see more of later). But first:

Our budding typist:
This was the keyboard converted to toy after I so graciously spilled tea all over it. I was optimistic that once it dried it would be fine, but there's something in tea that's not in water… and it never recovered. The boys have most certainly enjoyed my mistake!
We decided that for the new year, we would switch the bedrooms so that Nathaniel could learn to sleep in the twin bed instead of the crib. That way, when Warren's ready, he has a bedroom all set up for him.
Nathaniel's bedroom BEFORE (minus a few of the larger toys that I had already removed, really an adult couldn't even walk in his bedroom when we started):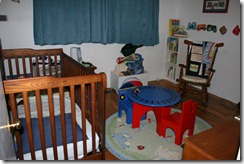 Nathaniel's bedroom AFTER (happy to say that after almost a month, it has stayed this clean!):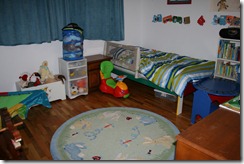 Warren's bedroom, or lack there of, BEFORE (I know, I really should have made the bed, but I figured it would only add to the effect):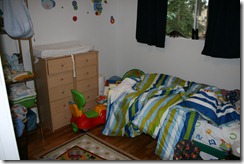 Warren's nursery AFTER (I couldn't decide which picture I like better, I'm just so thrilled my baby has a nursery!):
Here's a final picture of Nathaniel's beloved Christmas gift before it got returned to the store: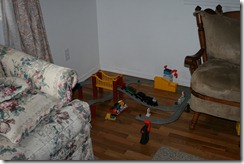 After FIVE days of constant use, while we struggled to maintain our sanity over the crazy noise of a train running through our living room, the thing DIED (Thank God)! So, we returned it to the store with the promise of buying him another one.
The FIRST replacement automatic train was really boring, but we hope it will last a little longer. When I got it home and put it together, Nathaniel was SO disappointed there were no bridges, so I had to bring out the duplos and build him a "double" train set, it was only about 1/2 done when this picture was taken. By the time I was done there were bridges and tunnels all the way around the thing. I used up ALL of Nathaniel's duplos to create the final "exhibit":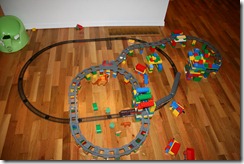 This train set was only 2/5ths the cost of the original one, and I later found another fancier one at Target that was 3/5ths. So, now we own both, but the SECOND replacement is still in the box (we're hoping until next Christmas since it is a Christmas themed train set).
My happy boys on our new couch (much better for backdrops):
Two final pictures of the Salerno's (in all their glory) before they high-tailed it to the east coast… we will REALLY miss them! (And why is it that all the priceless shots happen to include my bare, lower back? As gym-reminders I suppose!)
Our Honda Civic, after is was gracefully hit by one of my friends: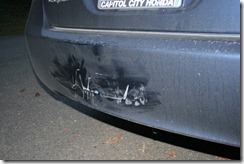 It's all better now, after the bumper was replaced… and it came home clean too!
Nathaniel has been "trick-or-treat"ing whenever he opens the door for anyone. He finds it highly entertaining to make people laugh, and this one never fails! Daddy tried to catch it on camera, but our big boy is too quick to be caught!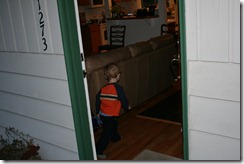 Our other big boy, my little chubby-tubby, loves his grub! Check out how RED that hair is looking! I can't help but want a third in hopes of repopulating the red-headed population. (Unfortunately, I don't know if my body can do it again. We will revisit this idea once I'm back in shape.)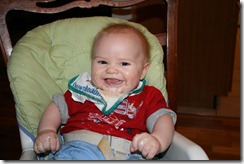 Nathaniel has a new game he created called "kisses, kisses, kisses." Basically he asks for "kisses, kisses, kisses," and I attack him with kisses and he goes limp and giggles uncontrollably. It's fun for everyone: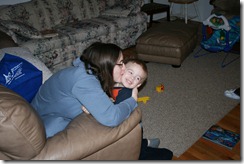 All my happy boys! (The oldest one in desperate need of a haircut!)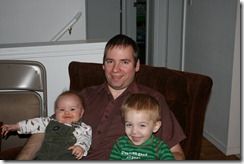 NO! He did not smear sweet potatoes all over his head (just his face) his hair really is that orange! Have I mentioned how excited this makes me (not the mess)?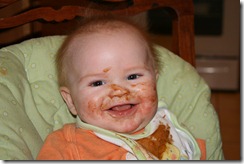 And finally, on one of these beautiful January days, the boys and I ventured to the zoo by ourselves. Nathaniel had a blast wandering the trails and opening the doors. Here are some random shots: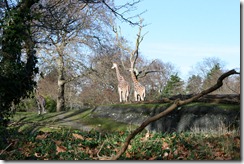 It is extremely hard to get an excited almost three year old to stop, even to take his picture, so some of the pictures are a little blurry, but really, they are a good representation of our trip! Nathaniel didn't even care to see most of the animals, he was just goin' goin' goin' GONE!
He did stop to look at the Elephants (and it's a good thing since he'd been asking me almost every day "Mommy? Can we go to the zoo and see the elephants?")
He also stopped to look in the dragon exhibit, but upon not seeing the camouflaged dragon, he moved on rather quickly.
He did find a dragon! These four shots were taken back-to-back, very quickly. After the third one, he turned and declared to me "Mommy, I touched his eye!"
Then we crashed the birds of prey show- very briefly: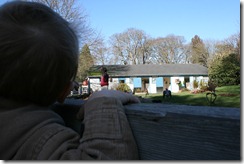 And, on to the Emu Exhibit!"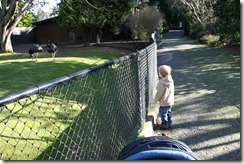 But, BY FAR, the BEST exhibit at the zoo was the construction exhibit: Every little boys dream!
A close second, was the mini door on the Zoomasium. Over, and over, and over, and over… he's my little "door" man.
But, the squirrels rummaging through the strollers was quite amusing to watch!
Any kind citizen might chase the crows off when they came to scavenge through the strollers for opened bags of goodies, but when they found an open bag of pirate's booty, I grabbed my camera :)
When the owners of the strollers discovered the misplaced bag, I was generous enough to offer that the crows were eating out of it, but they just laughed, shrugged, and tucked the bag back into the stroller… yuck!