Don't Look Away…
3/17/2010 11:59:40 PM
By Danielle Gould



…or you'll miss it! Warren is growing and changing EVERY day! One morning, a couple of weeks ago, I went upstairs and when I saw him, I could have sworn that he grew several inches over night.

Nathaniel was so sweet to put his conductor-hat on Warren… so cute!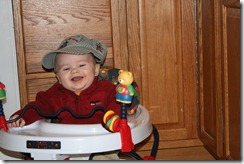 Warren loves his walker. He is moving around quite a bit in it, and out of it, now.
In fact, this was suppose to be a picture of how bath time had evolved into joyous splash time, but now it's completely outdated because Warren was throwing his weight around that little bath tub so much that we had to graduate him to the next bathing product, the bath seat!
The fact is, Warren is a serious bather. He leans forward and swims his arms through the water like he's in a race, and when he gets thirsty, he simply face-plants for a drink. He loves everything about water and bathing (especially the getting-messy part that comes before it)!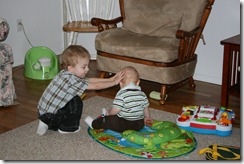 This picture is a true testament to "quick-grab-the-camera." The boys were playing so nice together and I wanted to savor that moment. So, I quickly grabbed the camera and just as I clicked the button, Nathaniel's hands went up (as you can see) and he really did push Warren over… ugh! I don't know which is worse, the fact that we can't seem to get Nathaniel to stop doing it altogether, or that I actually think Warren may be getting use to it. It's only a matter of time, sweet Nathaniel, Warren is already over two-thirds your size!
Nathaniel loves to paint, though it seems I only let him do it about once a month. What can I say? The months are passing quickly, and there's just too much to do! In these shots, my good friend Carrie was his assistant.
Baby Warren, doing what he does best, my PRO eater!
Nathaniel, doing what he does best, picking on his brother. Yes, Warren did end up trapped in the basket, but I can assure everyone, he much enjoyed it!
Another bath time photo session. As always, Nathaniel was right there to help… now he helps from inside the bath, as the boys are bathing together (YAY for efficiency)! Also, in this sequence, Warren demonstrating his water-drinking abilities, as mentioned previously.
The boys playing nicely together, as I had been trying to capture before. :)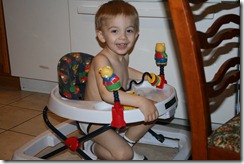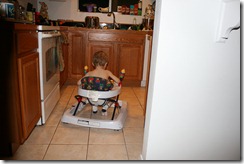 I can't believe his skinny butt fits! But, seriously, I think it's kind of sad that Nathaniel has not reached the weight limit on most of the baby accessories, and can commonly be found pretending they're his.
Expressions of a model baby whose mommy is in denial that his 12 month clothes are SO short, that she simply pulls up his socks to cover his thick ankles. I shouldn't give myself all the credit though, could have just as easily have been Daddy. :)
Oh yep, the added blanket behind Warren is a sure-indicator that Daddy did in fact take these pictures of happy kids! Mommy gave up on the padding behind the butt-scooter long ago!
We were taking some evening family walks after dark for a while when we couldn't seem to find enough time when it was light outside. I could not believe that Nathaniel got so tired on our walk that he fell asleep on a stroller that was CLEARLY not intended for a sleeping toddler!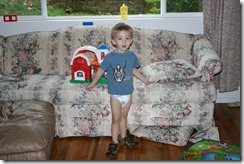 Blackmail picture! Actually, I"m pretty sure there are quite a few of me at this age, doing the same thing… no wonder I had nightmares all through school of showing up without any pants on!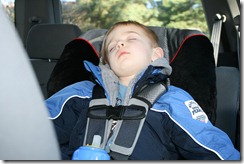 Nathaniel LOVES his new car seat! Not sure we'll love it if we have to lug it through an airport, ever… but for now, it's great!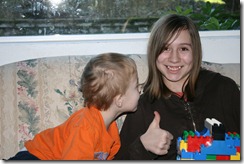 Nathaniel's new best friend! Maria has been helping me out after school a few times a week. She keeps Nathaniel quite entertained and happy! It's nice to have a constant smile in the house occasionally.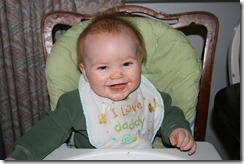 Look at that happy boy. Happy to have food in his belly. Happy to be getting his picture taken. Happy to be professing his love for his daddy, via his bib. Yes, that's right ladies and gentlemen, much to everyone's surprise, Warren is a TOTAL DADDY's BOY! The second David walks into the house every evening Warren bounces and yells for him until he gets picked up.
Yes, I know, knee caps don't develop until the age of 2, but that knee roll is just WRONG!
The boys and I spent a day with the in-laws. Super fun, we all had a blast!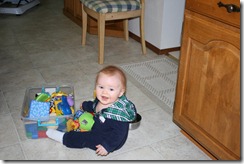 It was the beginning of Warren's "butt-scooting". I had sat him down on the run in the center of the picture and if you watched him, you couldn't notice he was moving, but then you realized how far away he was from his original location… and so it begins.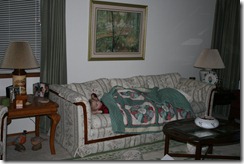 There's a first time for everything… right? This was the first time Nathaniel's ever slept on a couch, the first time he's ever put himself to bed, the first time he's ever slept at someone else's house without great difficulty… Grandpa Fufu and his trains WORE HIM OUT!
Matching jammies at Grandma's house. So much fun for picture-taking.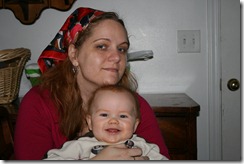 AHA! Now we know whose child he is! That red hair must have come from 'Aunt' Carrie, who is in no way related to us whatsoever…
And, finally, another trip to the zoo, only this time I remembered my ZOOM lens, and was quite pleased with some of the animal shots I got:
Oh yes, pretty kitty, you ARE the most beautiful thing at the zoo… don't worry, you don't have to try…
We met my friend Carrie, who despite this blog entry, is not my ONLY friend :) A friend of hers came with her 3 year old, too. It was fun, and I got some cute pictures of the kids:
Like usual, Nathaniel was the leader of the pack- on the go the whole time with that long stride of his.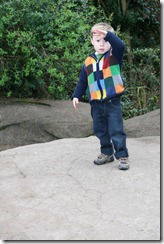 Cade wanted to enjoy the scenery a little more…
Poor Tara was constantly trying to convince him to follow Nathaniel.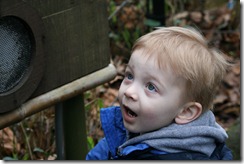 The little sound box was making a elephant noise and this expression was caught at the perfect moment.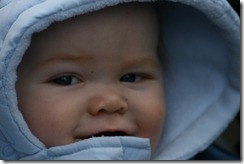 Baby Warren, all bundled up and along for the ride.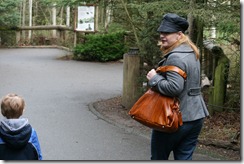 This picture almost came at a great expense. As mentioned before, I had my zoom lens on, so they were quite a bit in front of us, down the hill. I took my hands off the stroller to snap the shot and had no view that Warren was running away from me… He was caught safely.
Cade, showing off his "funny face." Also, notice he HAS his two year molars. I only just yesterday discovered that Nathaniel is FINALLY getting his two-year molars in… what a nice 3rd birthday present for him.
The boys having fun picking on the fake birds!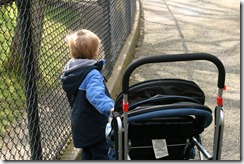 Nathaniel, pulling the stroller, herding us along through the zoo, as he did most of the trip.
As always, a fun outing!
Until next time-