My Little Helpers
4/18/2010 1:31:02 AM
By Danielle Gould



March was definitely our craziest month EVER! But, we did have some fun too…

Nathaniel, my little chef, LOVES helping dump stuff into the crock-pot. Here we are making spaghetti sauce! It's really a great incentive to make sauces and meals in the crock-pot, because it's something we get to do together, and then we reap the benefits in the evening… only problem is, Nathaniel still won't even TRY most foods. He LOVES making chili, for example, but I'm not sure he's ever braved a taste. Silly boy, maybe someday he'll wake up!

I decided I'd let him help me start the garden this year, hoping that being involved in the growing process, he might eventually try some of the yummy foods we'll grow.

Watch my garden grow.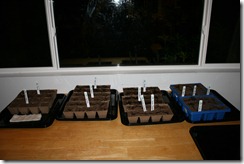 Just planted.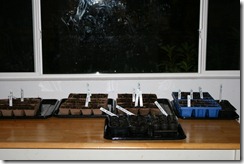 1Week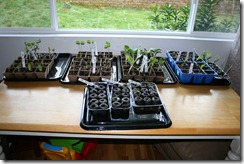 2 weeks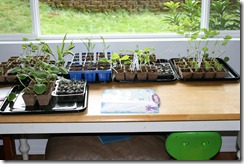 3 weeks
Unfortunately, while the story is not yet complete, most of the plants didn't make it because we got a little over-excited at all the nice weather we were having and we planted them too early. So, we may be repeating this process, or just buying starts depending on how it goes… will keep you posted!
My mom joined us for a Gould family gathering at a Chinese buffet in DuPont. We counted the number of people crammed into the room we were in, it was almost twice the posted capacity, which, I have to say, is a first for me!
Some random family shots, and the only one we'll get of David's sister holding her not-so-new-anymore-nephew.
Warren "Mischievous" Gould, longing to be outside!
Warren blowing kisses!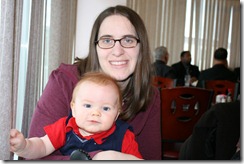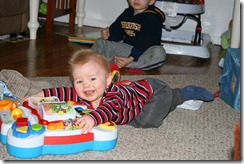 This little man, trying to be mobile, is now VERY mobile!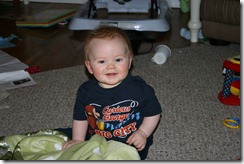 This picture will always be full of memories for me! Warren had the worst blow-out of his life at a restaurant, it was really miserable, but I will spare you the details. In any case, I didn't have an extra shirt in the diaper bag for Warren, only one for Nathaniel, so in this picture, Warren's wearing a size 3T t-shirt, can you even tell? I was a bit shocked, myself!
And now, a bunch of random kid pictures:
NATHANIEL'S 3!!!! This was his birthday:
It started with the opening of his new bicycle helmet.
Then, we unveiled the trike.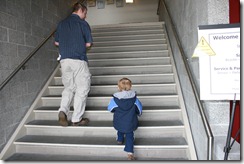 Followed PROMPLY by a trip to the bike shop to get him a new helmet when we discovered that the one labeled "3+" was MUCH too small for Nathaniel's big head!
He got to pick out one that did fit, and chose to wear it the whole way home. We stopped for some fast-food for lunch, definitely a special day!
Gotta love this sequence! Nathaniel using his new bike to chase down the poor cat… and then ditching the bike to get the cat- good thing he can't ride the bike yet!
Daddy instructing Nathaniel on how-to-ride-a-bike.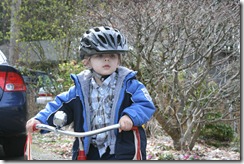 And he's off, or so it seems.
Ah, yes, this is more like it. Even now, nearly a month later, Nathaniel can't figure out how to peddle!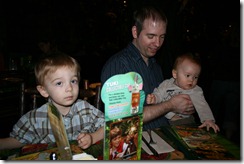 And off to the Rainforest Cafe for a special birthday dinner.
Nathaniel watching the Elephants right next to our table, as they came to life.
Warren enjoying his meal.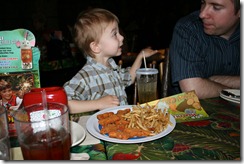 Nathaniel's birthday meal. Daddy trying to coax him into eating it! "Dinosaurs are extinct, so you might as well eat them," he said. To which Nathaniel replied "Dinosaurs don't stink!"And only because it was his birthday, did we order dessert before he'd even touched his meal (cause he never touches his meal).
In case you didn't follow this sequence, I'll narrate it for you: Nathaniel get's special treat because it's his birthday- the wait-staff sings to him- He ducks under the table because he's scared of the sparkler- and came back up when they replaced it with a candle.
After our meal, and dessert, we went out into the gift shop and let Nathaniel choose anything he wanted. I can definitely say he's my child because he chose a key chain and a notebook. Of all the stuffed animals, clothing items, books, and games, my kid chose a notebook! It makes Mommy proud!
Before we left, we took a trip over to the alligator pond and let Nathaniel make some wishes-
The face of a 3 year old!
For MY birthday, we made a St. Patty's Day cake.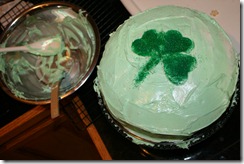 We dyed the cake and the frosting green.
Matching Jammie night!
Nathaniel and Maria painting Easter figures (and Nathaniel painting himself a little).
The first bath together- SO much fun!
The first potty-chart reward! We went down to Target and he picked a desk-calendar that was on clearance. He proclaimed with such excitement when he first saw it "IT'S A GARAGE DOOR" that I couldn't deny his the greatest satisfaction of finally owning his own "garage door"… silly kid! So, in this sequence, he's playing "garage doors."
Nathaniel and Maria goofing off.
And then dipping graham crackers in the leftover chocolate after I'd covered some strawberries… and before dinner, too :)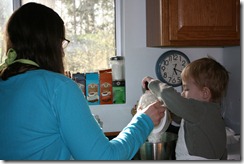 Nathaniel really loves baking and cooking with me, we do it quite often. I don't remember what we were making this particular day, but it was a team effort.
This was Nathaniel's second egg-hunt ever! He did quite well! So well, in fact, we decided to hide eggs for him at home this year too.
Here he was at the neighbor's house waiting for them to come out so they could watch.
It worked out great because we reused the candy he'd gotten at the first egg hunt in the eggs for our egg hunt, I'm sure next year, we won't be so lucky!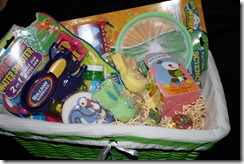 Nathaniel's Easter Basket 2010!
What better way to end a blog entry with some final, growing, learning-how-to-move-and-stand baby shots :)