Spring Happenings
6/7/2010 5:04:05 AM
By Danielle Gould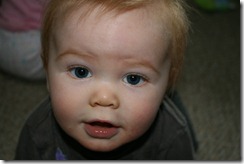 Look at those baby blues! My little baby is now crawling like a champ, pulling himself up and cruising the furniture, and standing without holding on… I can't believe how fast he's advancing. He's also doing really well throwing a ball in a specified direction- nearly as good at playing catch as Nathaniel is… CRAZY! Oh, yeah, and there is only 1 clothing size between my boys now, as Warren is wearing size 18 months. Really, he's still only 9 months old!
I know there are a lot of "baking" pictures that end up on here, but that's because we really do bake a LOT! I was going to say that I bake a lot more than just sweets, but really, we don't! It's all sweets- quick breads, cookies, and recently scones- as we are trying to use up a bunch of Jam I made that's coming close to an end on shelf-life.
The boys love bath time together- except of course, like usual, this picture is quite outdated. Warren no longer uses a "sitting aid" because even in the slippery bathtub with tons of splashes being thrown his way by his big brother, he's pretty stable. His favorite thing to do now is stand up at the end, let go, and cannon ball backwards into the water. He has a blast doing that and the funniest part is Nathaniel tries to mimic him, and it doesn't work out so well for his tall, lean body!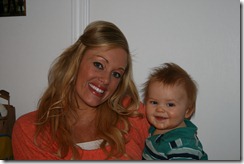 My cousin Jamie holding Warren after her and her new husband came over for dinner. We can't wait to meet their new little one due to arrive in late July!
Look at the size of that bumblebee! It snuck into our house on one of the warmer days in early spring, and I'm still proud of myself for using Nathaniel's bug catching kit to catch it for him to look at magnified. It was a great experience for both of us, and the bumblebee lived to tell it, as we released it after Daddy got home to see it.
Fireman Nathaniel- his first take with the hose this year! I think we're in trouble, he's strong enough to point and spray now!
Washed out Warren, enjoying the grass… before he could crawl.
Nathaniel's new favorite past time- riding the ride-on toy I bought for Warren, down the driveway- feet up in the air- and crashing into the garage door. Luckily, a friend of mine gave us a second one for Warren to have.
The boys playing with Jude in his backyard. They lost interest pretty quickly and found it more interesting to hit the on/off switch and watch the whole bounce-house deflate and inflate.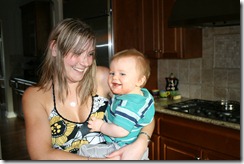 Nicole holding Warren. I think he's smitten.
Jude and Nathaniel play SO well together. They have been buddies since before they were born and are only a could weeks apart.
Shaun and Nicole working so well together to clean up a mess that our child made! Such wonderful friends! David couldn't help but snap a picture!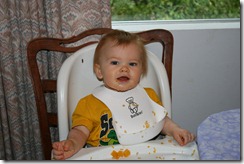 Warren's still such a great eater! He's eating most of the same foods as Nathaniel (and us) these days! He loves meal time!
/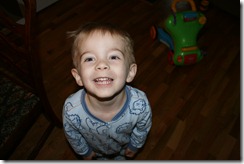 Though he's 3 and ornery, Nathaniel's still a goof ball!
What's wrong with this picture?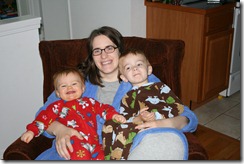 Good morning snuggles with my boys! You wouldn't believe how common this is in our house (both boys in my lap- that is).
…and here comes trouble! He's already a big time crawler. One evening, while nursing, he spun around and crawled up my leg (pictured)- I couldn't resist telling David to grab the camera because it's such a great personality shot!
And here comes Trouble, #2! This is our new kitten, Quadoo. The name Quadoo came from Nathaniel's first attempts at saying "Garage door"… We use to be driving down the street and he'd be pointing out his window at every house saying, "Quadoo, Quadoo, an anoder quadoo!" We said then that if we ever got another cat, we'd name his "Quadoo" and this one sort of fell in our laps- he's a good little kitty though!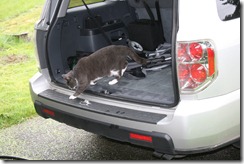 And here's our other beast. Quietschen , or Veech, as we call her, has always liked cars for some reason. She's never shy about jumping in if I leave the door open, and she's not shy about continuing her sunbath in the middle of the road, if a car is coming, either. On numerous occasions, I have had to stop, get out, and physically remove her from the road so that I could pull in the driveway… not the brightest kitty- but she's a lot more manageable now that we let her go outside.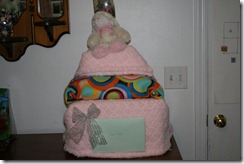 This was my most recent craft project- a baby gift for my cousin Jamie. I made 3 blankets to wrap the more practical gifts in- wipes, diapers, and breast pads- all of my favorite brands for her to try out.
It's been a while, but I finally got him an easel! He loves painting and is looking forward to doing it a lot more now that we don't have to paint on the floor.
Nathaniel's first SMORE! And yes, that's all he ate of it! He decided he doesn't like "smores" – he would rather just eat a marshmallow. He's a bit crazy!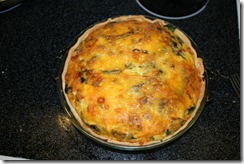 My quiche turned out so beautiful the other day I had to take a picture… it was as yummy as it looks!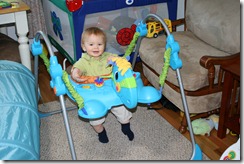 Warren has met his new favorite toy- a jumperoo! I always knew he's love one, but finally found one for the right price!
Quadoo COPY-CAT! He has spent a LOT of time following Veech around, learning what to do- how to do it- all the basics really. She's starting to put up with him, but I am wondering about her senses as a lot of the time she doesn't realize he's quite so close for a long time, and then she sees him and flips out at him. It might also explain her lack of enthusiasm for getting out of the road when cars are coming, too.